Training Quiz Maker for Employees
Are you looking for the best training quiz maker for employees to create online tests? HmmQuiz has already been used by many companies that were in the same situation.
With HmmQuiz as your training quiz maker, you can leverage a lot of best advantages modern technologies can offer you. This web service lets you create quizzes to test your employees on company policies, customer support strategies, safety procedures, or anything else. It provides an easy way for managers and business owners to assess their employees' knowledge, without having to spend on it unnecessary long hours or big budgets.
Try For Free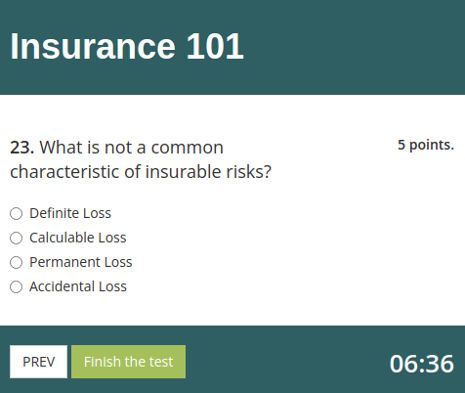 What features the best training quiz maker for employees must have
To be the best possible solution for your trainings, an online quiz maker for employees must support a wide range of features. For example, here are just a few of those which you will find in your HmmQuiz account.
All tests in HmmQuiz will have time limits defined by you, as an administrator, and controlled automatically by the system. Timed tests are a reliable tool for measuring what your employees learned during employee online training sessions. They also help to improve attention retention and study habits during the training, because a specific limit sets boundaries for focused and productive activities. In general, timed tests can be an excellent gauge for determining what a person does or doesn't know right here and right now. When the time is over, the test is finished automatically, and an employee can no longer submit their answers. This helps managers see where an employee's weaknesses lie, which gives clear direction for strengthening those areas by participating in an additional training session, or by using other learning materials available in your organization.

Along with lots of other question formats, in HmmQuiz you can create multiple choice questions. Multiple choice tests are graded automatically in this training quiz maker. They also have the most straightforward and simple inner logic, familiar to most employees from school years. All these factors combined make multiple choice tests one of the best choices when you need to create a training quiz for employees. You can also add videos or images to a question to make it more detailed or informative.

In HmmQuiz you can use categories as an organizational system for your tests. This feature makes it easy to find and use quizzes related to specific topics or trainings among all the tests created by you in your HmmQuiz environment.

Since a training quiz maker is usually used not only for final tests, but also as a tool for an ongoing learning process, it might be a good idea to not use "Passed" / "Failed" type of final results for tests the purpose of which is getting knowledge rather then testing it. This is a reason why in HmmQuiz an instructor can disable displaying of "Passed" and "Failed" messages in the test results for training quizzes.

Having created a test, you can edit its parameters later whenever it's necessary. For example, you can change the order of questions if you find out that the original approach had not the optimal arrangement of test elements.
A tool to improve your business processes
With HmmQuiz as an online training quiz maker for your employees, you can noticeably optimize your business processes and procedures.
HmmQuiz can help you reduce paperwork by organizing and streamlining the testing process in an electronic format. Since it is web-based, exams are accessible to all of your employees at any time of day or night. In a global economy with company offices all around the globe this might be the key factor for establishing an easily manageable testing system. Paperless format also means that there is no need for allocated testing rooms in your office, which will free up space while reducing costs associated with using such facilities.

An online training quiz maker for employees can reduce costs in a number of additional ways as well. First, with online quizzes it is easier to organize and administer large numbers of tests, which saves the company time and resources that would be spent on organizing these events if they were not arranged electronically. Secondly, because administrators don't have to monitor every test taker during the testing, this gives them more freedom in their schedule, so that they can be more productive during the day.

If you reuse questions from your earlier tests in the new ones, which you can easily do in HmmQuiz, you will be able to evaluate the effectiveness of your testing in the long run. You can also get more information on how well employees performed compared to previous years. Lastly, by reusing questions that already proved to be effective in testing employees knowledge, you can gradually improve your testing system in general.

Having selected all results for a particular test, you can quickly analyze all the data related to this quiz, such as how often it's been taken, which departments already used it, and what is the trend in terms of knowledge improvement in this specific area.

When you open one test result details, besides information about each employee's performance, you'll get aggregated stats for all employees that took the quiz: how many of them passed it, how many failed, and with what grades on average they did it. Also, on the next tab you'll find the aggregated stats for all questions that were included into the quiz, namely, how many quiz takers gave correct and wrong answers to each of them. This simple table can give you plenty of insights when it comes to understanding both strengths of your online training for employees and the gaps in it.
Who can use this online employee training software?
Most businesses, small to large, can benefit from conducting employee training online with the help of the proper software solution.
For example, training new hires can be one of the major time-consuming tasks for small business owners, especially if the business model itself is prone to high staff turnover.
If it sounds familiar to you, then you probably already felt how dissatisfying training your staff can be, especially when it's difficult to keep people focused on the task due to objectively boring form of training.
And, if you don't have an established and easy-to-use knowledge monitoring system in your business, once the training is over, there's no definite way of knowing whether or not your employees learned something valuable from what you taught them today.
The easiness of use for you and your employees plays a significant role, since otherwise such systems just get abandoned with time, even if they were originally implemented as an everyday tool.
One of the ways of fixing such problems would be, obviously, hiring an expensive trainer and delegating all these issues to them, but that's rarely the best solution in such a situation for a frugal business strategy.
Especially, when you can just use an online employee training software, like HmmQuiz, to create engaging quizzes that will help your employees learn faster, not requiring your constant supervision, and with a price tag that's only a fraction of what could be spent on alternative solutions.
Start using HmmQuiz as your test maker to create trainings for employees:
✔15-day FREE trial period
✔no credit card details required to create an account
✔from $4.99 per month after the trial period
Sign Up