Online Test Generator for Web-Based Testing
An online test generator can be used in education and business, by organizations of any size or individual users.
Its many features make it easy to create tests for your students or employees without the hassle of printing out questions and distributing them manually.
Try For Free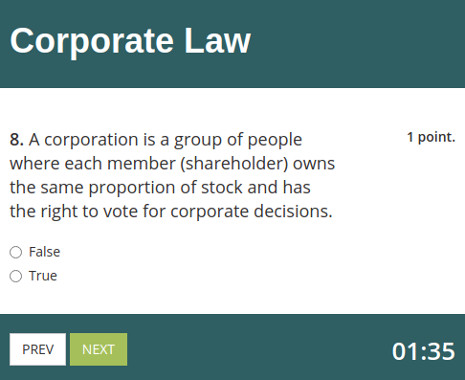 What is an online test generator?
An online test generator is a web application that helps educators, business managers, and students create quizzes and exams in their web browsers.
It has a few question types, including multiple choice questions and essay (free text) type questions. If necessary, each question can have different point values in the final result.
Quizzes created with online test generators like HmmQuiz start and finish automatically. You can determine when the test is available to your quiz takers, and its availability will be handled accordingly by the application server.
Once the test is over, the online test generator provides immediate feedback on each answer. The student gets a final score based on their performance, which can be expressed in % or in points.
Test generator users have access to online reports about individual quiz sessions. They include all of the problems attempted, time spent per tests, accuracy rate, etc.
Instructors are able to invite a selected group of test takers to take specific quizzes and then track their performance.
Business usage of such tools
Besides all the regular advantages of such tools, businesses can also find other aspects of online test generators to be beneficial to their goals.
Online testing can be used both for evaluating performance of employees and as a learning tool in your internal or external training courses.
Online quizzes allow companies to screen job applicants before they actually hire them to avoid hiring mistakes.
Tests created in tools like this can be adapted to suit any educational need, including adult or continuing education courses.
Such tools can offer automated quiz takers management. It means not only online testing for a larger number of people at the same time, but also the easiness of creating accounts for all of them.
Function of randomizing order of questions, available in online test generators, makes it possible to create a test just once and then delegate to the software the task of making a unique copy of it for each quiz taker.
Practice test generator in HmmQuiz
The need for testing has always existed, no matter what the form it comes in. It's been like this not just because students want to see how they measure up against their classmates, but primarily as an assessment tool which teachers use to gauge where each student needs help on specific topics or skills.
That's why HmmQuiz can be used not only to conduct testing that summarizes the progress of a student at the end of the semester, but also for online exam simulations at any time.
Using tests for practicing, an instructor can notice some problems with how the test was designed in terms of the content of questions he or she prepared for a quiz. If there's something wrong with any of them, with HmmQuiz you can easily remove questions from the test and add new ones.
Sometimes the order of questions may have some influence on the test quality as well, and it can also be quickly changed in a practice test generator interface.
As a student, you can use HmmQuiz as a practice test generator tool to study on your own as a part of preparation for real exams. HmmQuiz can be a convenient assistant in this process. You can create practice tests with questions customized to the exam you are studying for, ensuring that you will be prepared come test day.
HmmQuiz as an online vocab test generator
Vocab test generator is an online tool that provides a solution to create quick tests for checking vocabulary knowledge.
For example, it can be used to create quizzes on such topics as:
synonyms;

antonyms;

definitions;

similar words with different prefixes and suffixes;

homophones (words which sound the same but have different meanings);

word origins;

… and many more other aspects related to vocabulary improvement.
HmmQuiz is a platform where you can create such online vocabulary tests using your own sets of questions.
In order to make a vocabulary testing process better, it offers many useful features.
For tricky words that might be confusing, in each question settings you can add a correct answer explanation. It will help students understand difficult parts of vocabulary better.
Additionally, this online app has a built-in timer that will limit the time spent on vocab-related quizzes and keep students focused.
Maintaining your own structure of categories of questions, such as "Synonyms" or "IT terminology", is implemented in such a way that you can assign a specific category to any question you create. Later, thanks to this, you can find such questions among all questions you created, and add them to new tests.
Generate tests online with HmmQuiz:
✔15-day FREE trial period
✔no credit card details required to create an account
✔from $4.99 per month after the trial period
Sign Up