Exam Management System for Online Testing
Online exam management system is a web-based application that provides a central location for students to take exams, and for instructors to administer them. It decreases the number of papers that need to be graded, and makes it easier for instructors and teachers to track their students' progress.
HmmQuiz as an online management system can be used in any setting, from private tutoring and small schools to large corporations and organizations.
Try For Free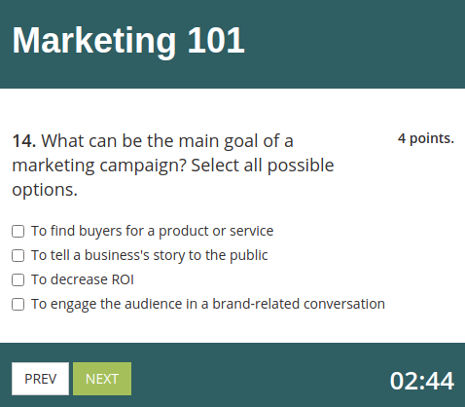 When to use an online exam management system
Exams are a necessity for every teacher. Regardless the topic you're focused on, whether it's marketing, sociology, or something else, tests are an important tool to assess students' knowledge and performance. But they can also be time-consuming and stressful to run.
Teachers often have difficulty managing their exams because of the amount of work involved in creating questions, grading papers, and organizing results. This means that they spend more time on these tasks than they should.
HmmQuiz, as an exam management system, was designed to help teachers create their own custom tests, keep track of all exams, collect all the answers, and give students feedback after taking the test.
In business, for example, trucking and transportation, business owners are always looking for ways to improve the efficiency of their company, but sometimes they overlook one of the most obvious solutions.
The problem is that for such businesses it might be hard to find a way to administer exams for employees in an easy manner, without spending too much time or money on them. This can become a pretty irritating issue.
By using an online exam management system HmmQuiz you can test your employees with a variety of questions, from multiple choice all the way up to essay type tests. You can even use automatic grading algorithms, so that you don't have to grade any tests yourself. This will save you hours upon hours each month, which will translate into more profit for your business.
Advantages of managing exams online with HmmQuiz
Online management of your exams means several things. First of all, obviously, your exams will be created in your web browser and stored in the cloud. Which, in turn, means that your quiz takers will also take these exams on the Internet.
In order to make exams available to people you need to administer tests for, in HmmQuiz you can create accounts for them. The easiest strategy is to create one account at a time. To do this, you need to enter your exam taker's first name, last name, and an email. After that the system will send this person a message inviting them to complete their registration. Each quiz taker will set their own password, which ensures restricted access to their tests and results.
Besides quiz taker accounts, in HmmQuiz you can create accounts of two other types: instructors and administrators. These types of users will allow you to enable the possibility of managing your tests to other people, for example, your colleagues or employees, such that you don't need even to create and manage exams yourself.
Since HmmQuiz automates and systematizes a lot of processes, it allows you, for example, to quickly find all the results for a given student. If you're looking at the one test result details, you can use a search box to quickly find a specific quiz taker's entry.
Also, if you have several instructor accounts, it's easy to show all the exams given by a specific instructor — just click on the "View" button in the list of your instructors.
Modern exam management in business
One of the aspects that must be taken into account when moving your exams online is that such tests also in a way represent your business. In order to make this part of your business in sync with the rest of its components, your exam management system should offer some features that help you express your corporate style and identity.
In HmmQuiz you can customize colors in your tests according to your branded color palette to match your brand identity. Namely, you can change both text colors and background colors, which provides great flexibility in terms of how your exams look and feel.
Most businesses usually prefer to use tests with multiple choice questions, which is one of the question types supported by HmmQuiz. There are many benefits of using multiple choice questions in online exams. One of the most important ones is that they can be suitable for students with special needs or those who may not speak English fluently. With this question type it will be easier for them to complete an exam without assistance.
In addition, because there is only one correct answer per question and limited time allotted for finishing the test, these types of assessments can provide very accurate and easily measurable results.
Lastly (but not leastly), this type of assessments will save instructors from grading exams themselves by allowing them instead spend their valuable instructional hours teaching.
Tips on how to manage exams effectively in HmmQuiz
Add videos to questions in your tests to improve the quality of students' responses. Videos may be used for a variety of purposes, such as demonstrating procedures or providing information about new concepts and vocabulary. This is an effective way to engage learners by helping them learn more from their own experiences than they would from just reading text alone, because it allows them practice skills that are difficult in the text-only mode or even with static images.

It's not always a good idea to follow a specific pattern when you create questions for your exams. For example, a lot of instructors tend to include in each question in a test the same number of answer options. There's no need to do this in HmmQuiz, since this app supports unlimited number of answer options for any question. Use this possibility to make your tests more difficult or more thought-provoking, depending on what your goal is.

If you don't know how to arrange some part of your testing in HmmQuiz, you can always open the "Tutorial" section in your HmmQuiz account. There you will find a short video tutorial that will walk you through all the steps necessary to perform to give and take quizzes in this exam management system.

Sometimes students can't get a good score on the first attempt. They might get nervous, spend too much time on one question and leave no space for the rest of the exam, etc. In other words, there might be plenty of reasons why a quiz taker fails the test other than mere lack of knowledge necessary to succeed. In order to be ready for such cases, in HmmQuiz you can allow your students to take an exam multiple times in a row.
Start using HmmQuiz as your exam management system:
✔15-day FREE trial period
✔no credit card details required to create an account
✔from $4.99 per month after the trial period
Sign Up