Multiple Choice Test Generator for Online Quizzes
Multiple choice tests proved to be an effective way to assess knowledge in the classroom or screen potential employees.
However, such quizzes can also be quite time-consuming and difficult to create by hand or even with a spreadsheet. This is where an online multiple choice test generator comes in handy. With it you can quickly design your own test, no technical skills or software experience are required.
Try For Free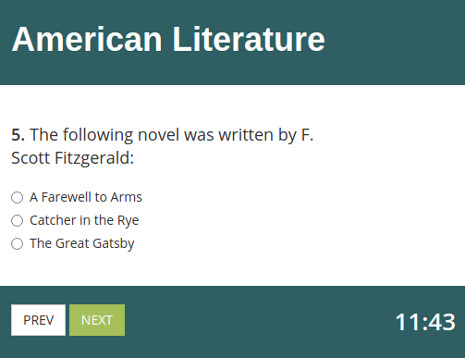 What is an online multiple choice test generator?
A multiple choice test generator is a web application that allows you to create multiple choice tests or quizzes online. A multiple choice test consists of questions with several options for answers.
It can be used on an electronic device such as a laptop, a tablet, or a phone.
When a quiz is created, the multiple choice generator app allows you to customize many aspects of it, such as its title, time limit, instructions before the test, and much more.
Benefits of using an online multiple choice test generator
There are many benefits of such apps, including the possibility to study and take exams anywhere — if you have Internet access, you have all you need.
Also, online multiple choice test generator apps offer students a great way to study on their own, without having to take a lot of time away from other activities or obligations. This type of studying lets them take tests at their own pace, when they feel like it. It gives students much more freedom and flexibility than traditional studying methods.
For instructors and teachers, such apps can show detailed results that include information such as the correct answers, number of responses that were given for each question, how many students completed the quiz successfully, etc.
Tips on how to use such an app effectively
Before clicking on the "Create a test" button, determine the length of your test. It will influence the amount of time it will require to be completed.
Decide on which types of question format to use. Besides multiple choice questions, you can get similar experience with multiple response questions, true or false questions, and even multiple choice text questions. All of these question formats are available in HmmQuiz.
It's important that questions don't repeat concepts already covered in other parts of the test, otherwise the quiz might become too long or boring.
If applicable, multiple choice tests can be designed with multiple levels of difficulty, so that results of different parts reflect different levels of understanding and knowledge.
Online multiple choice test generator for your business
An online multiple choice test generator can be used to create quizzes and exams for employees that need some internal certification.
It will also help determine skills, abilities, and knowledge of job applicants before hiring someone. Multiple choice tests are an easy and efficient way to evaluate potential candidates in a short amount of time, which is why they are becoming more and more popular.
An online multiple choice test generator can be used in almost any kind of companies or organizations that need to hire people.
For example, testing new hires is usually quite a hassle for amusement parks managers who need to hire a lot of people in a very short time span, before the main business season begins.
Automated tools for online testing, such as HmmQuiz, allow such employers to quickly and easily create their own tests online. It's freeing them from the need of printing out questionnaires and other aspects of administering paper-based exams on site.
The benefits are clear: eliminating the production time involved in managing multiple choice tests will add more flexibility and process agility when hiring employees. It also reduces costs, since no physical materials are necessary to use.
Valuable addition to your learning process
High school students have to spend a lot of time preparing for exams about, for example, literature. They need to read a lot of books and study texts carefully in order to pass their tests.
The problem is that many of them find this process boring and unpleasant. This leads them to fail classes, which makes them, their parents, and teachers frustrated.
HmmQuiz can not only help students learn so that they could get better grades, but it also can make studying more pleasant.
Students can use interactive online tests as revision tools before exams, and also as learning activities during lessons when there's time left at the end of a lesson.
Moreover, HmmQuiz can be and often is used by students who are preparing for exams to create their own multiple choice quizzes to practice.
The app features a simple interface with the most basic functionality on the most visible places, which makes it easy to use and intuitive. A student can add as many questions as she or he wants, and even share them with classmates. The quiz will be available online 24/7 so that other users invited to take the test can take it at any time of day or night, whenever they have free time.
Generate multiple choice tests with HmmQuiz:
✔15-day FREE trial period
✔no credit card details required to create an account
✔from $4.99 per month after the trial period
Sign Up